[Guide] Getting Started With the Education Partner Program.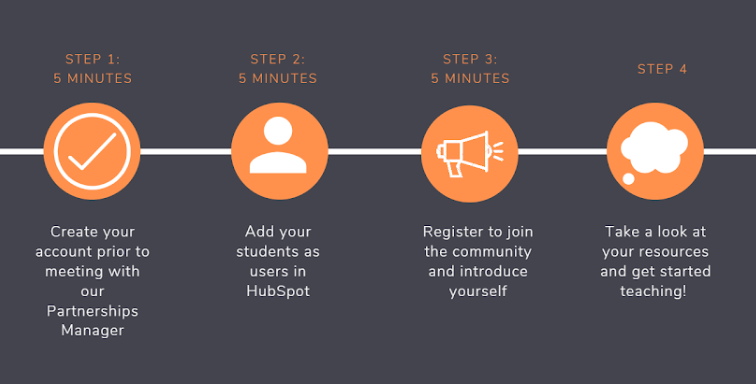 Step 1: You've been approved for the Education Partner Program. You'll need to create your HubSpot account prior to meeting with our Partnerships Manager [Approximately 5 minutes]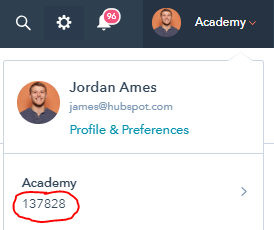 1a. Create a new account here with the same e-mail address you used to apply to the EPP.
The system will prompt you to include your Company Name and its size. Here, you can put the name of your institution and the amount of people it employs, using your best guess if you do not know.
1b. Please submit your HubSpot ID number, or HUB ID, here. Your HubSpot ID# is the 6 or 7 digit number that is visible in your URL (and at the top-right of your portal).
Step 2: Add your students as users in HubSpot [Approximately 10 minutes]
There are two ways to add students as users once you've created your account. If you do not currently have a list of students enrolled in your class, please revisit this step when you have your roster.
You can either add students manually or upload their names to our software using a .csv excel spreadsheet. Once students are added, they will be able to access the HubSpot Software and complete coursework and/or certifications you assign.
Add students as users manually
In your HubSpot account, click the settings icon in the main navigation bar.
In the left sidebar menu, navigate to Users & Teams.
In the upper right, click Create user.
Enter the email address(es) into the Add email address(es) field. If you are adding multiple users at the same time, separate email addresses with a space. Then click Next.
Add students as users using a CSV file in Excel
In your HubSpot account, click the settings icon in the main navigation bar.
In the left sidebar menu, navigate to Users & Teams.
In the upper right, click Create user.
In Excel, add an e-mail column with the email addresses of your students, and save the file in a CSV format. Click A CSV file, then drag and drop your .csv file, or click choose file to browse files on your computer. Then click Next.
The students should receive an email welcoming them to your account as a user and prompting them to set their password. If your student doesn't receive a welcome email within five minutes of being added to your account, ask them to check their Junk/SPAM folder. If the email doesn't appear there, the student should follow the steps to ensure HubSpot emails are delivered. You can then give them access by sending a reset password email. The student can also do this directly from the login screen.
Once the students log in, encourage them to set up their profile as a user. You can now track your students' progress with regards to certifications. However, if you'd like to assign them projects in the software, you will need to grant them access. Our software allows you to grant access to all students, all at once.
Select the checkbox next to the user(s) whose permissions you want to edit.
At the top of the table, click edit Edit.
In the right panel, navigate the tabs to grant and restrict permissions. Click Change next to specific permission(s) to adjust the users' access.
Step 3: Register to join our community and introduce yourself to your peers
Our Education Partner Community is here and is a great place to post questions about the EPP, toss ideas around with other colleagues, and learn about the updates and announcements to our offerings. Please follow these steps to join the community: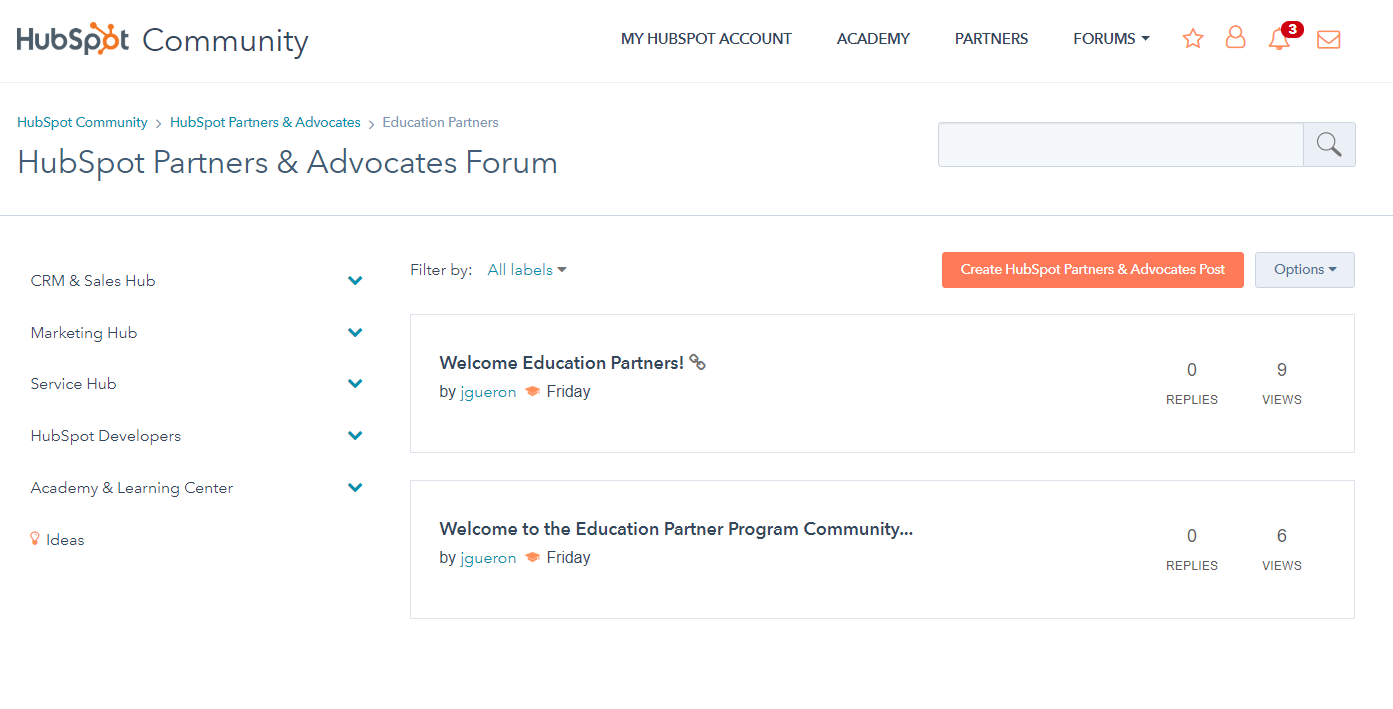 3a. Click "Sign in to Community" at the top right
3b. You will be prompted to choose an account. Choose the account you have affiliated with the EPP. However, your post(s) on the community will be tied to your e-mail address, not your HubSpot Portal. So, if you would like to post to other communities in the future (see all of our communities here), you can do so without creating a new account.
3c. Register yourself, complete your profile, and introduce yourself on the Welcome post, which is here.
Step 4: We have so many resources that allow you to succeed in the Education Partner Program. Take a look! You can start by: