When your students have completed one of HubSpot's certifications, they can view their certification, download a printable copy, embed the certification badge onto social media, and add it to LinkedIn.
In your HubSpot account, students need to click their account name in the top right corner, then click HubSpot Academy.
Search for the certification they want to review, and click View certification.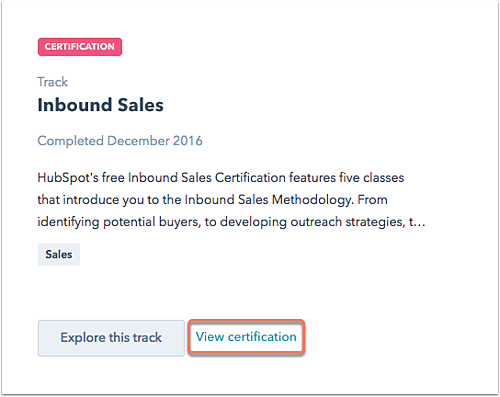 At the top of the pop-up window, they will see their score for the certification.
Students should scroll down to see their options for sharing, downloading, or embedding their certification badge. They'll have a few options:

Students can click on any of the icons at the top to add to Google Plus, Facebook, Linkedin, or Twitter.
Students can click "add to my profile" to add the certification badge to their LinkedIn profile.
Students can click "Download a printable certificate" to access and print a PDF of their certification.
Students can click "Copy code" to copy the embed code, which students can then embed on a website.