You've been approved for the Education Partner Program. These are the next steps to get your account set up.
The first step to getting started is creating your account. We will link your Education Partner Program access to the account that you create, but first you need to create an account.
1. Log into your account or create a new one with the school email of that class.
2. Once you have created your account, you need to find your HubSpot ID#, the 6 or 7 digit number that is visible in your URL and also in the top-right of your portal. Please submit your HUBID # here.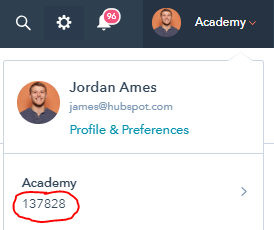 3. Next, get your students access by adding them as users on your account. This will send them an invitation to make a HubSpot Academy account to access the learning center. Follow these steps to add your students as users in your HubSpot account
You are all set to start using the learning center!
P.S. If you are interested in using your free software, there is one last step to get set up with your free package. You can follow this link to do that.