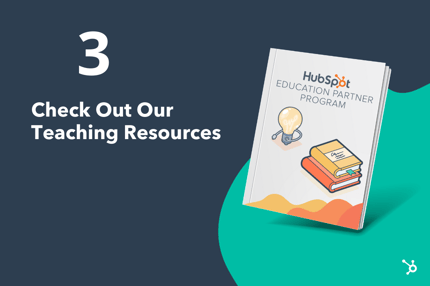 1. All of our teaching resources (listed below) can be found HERE.
2. All HubSpot Academy lessons, courses and certifications can be found HERE.
Use the search bar at the top to find content relevant to your class

3. If you'd like some ideas or feedback on your curriculum or syllabi, contact us at educationpartners@hubspot.com and we'd be happy to assist!
Our Teaching resources include some of the following:
Syllabi
Inbound Marketing
Content Marketing
Inbound Sales
Social Media
Entrepreneurship
Digital Advertising
Case Study Projects
Brand Engagement Case Study
Business Project
Learning Paths:
Sales Representative
Digital Marketing Strategy
Automation Across the Flywheel


>>>>>>>>>>>>> Step 4 of 5: Join The EPP Community